The GC CAPSULE APPLIER III is designed to be used with all GC encapsulated glass ionomer products to facilitate easy dispensing of the mixed materials directly to the tooth preparation.It pre-activates the capsule and dispenses the material. The GC CAPSULE APPLIER is autoclavable and easy to clean.
PARTS OF GC CAPSULE APPLIER: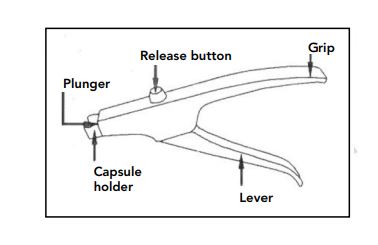 Key specifications
CLEANING:
Clean the applier with a gauze soaked in alcohol.
STERILIZATION:
The applier can be autoclaved at 121-134°C (250-273°F) for 10 to 30 minutes (excluding heat-up time). Please follow manufacturer's instructions. NOTE: The use of chemical disinfectants/sterilants may cause damage to the applier and are therefore not recommended.
Prior to use, sterilize the applier.
Do not use the GC CAPSULE APPLIER III on patients who have a history of allergy or show signs of allergy to metals. If any such reactions are experienced, discontinue the use of the product and refer to a physician.
An operator who has a history of allergy to metals should not handle the GC CAPSULE APPLIER III
In case of allergy, discontinue use and consult a physician.
Take care not to get your hand or fingers caught between the lever and the grip.
This product should only be used by a dental professional.
This product should only be used for the applications described herein
Packaging
Directions to use
I. Capsule Loading: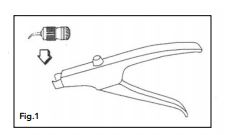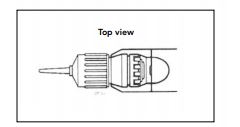 After triturating, remove the capsule from the amalgamator: Insert and secure the capsule in capsule holder
NOTE: The capsule cannot be inserted if the plunger is extended. Retract the plunger by pressing the release button
II. Extruding the Material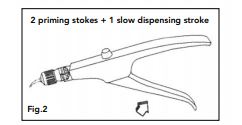 Direct the capsule nozzle into the prepared surface of the tooth. Make 2 priming strokes with the lever; then ensure the third and fourth strokes are made slowly to allow smooth dispensing of the material
III. Removal of the Capsule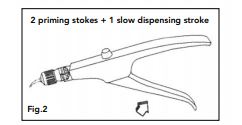 Press the release button to retract the plunger. Remove the used capsule from the applier by twisting clockwise and pulling upwards